Want to host a free party with me?
Interested in doing what I do?
Ran out of lube?
Jen Leigh
617-383-9637
Keep an eye on your inbox for some special Black Friday deals and some limited edition Holiday treats.
Hint: they'll make you smell yummy enough to eat!
As if it weren't enough for regular exercise to cure or prevent numerous medical conditions, frequent trips to the gym also have a positive impact in the bedroom. Think about all the ways you could be helping yourself before you balk at working out:
Endurance. When you start a regular workout routine, you'll begin to notice some spiffy new muscles taking shape. Like abs, for holding fancy new positions. Frequent aerobic exercise will also directly translate to aid your breathing in the bedroom.
Self-esteem. Setting goals, working towards them, and seeing and feeling results will give you a huge jolt of self-confidence. You'll be so pleased with your developing body that you'll be excited to share it!
Mood. Stress and depression are all too common, and they have a bad influence on your love life. Check yourself into the gym and enjoy the positive lift the endorphins give you. The pheromones in your sweat can't hurt either.
Been a while since you partied with me? Here are the new items we just can't stop talking about!
Shock Therapy
Apply these electro-stim pads to sore muscles or sensitive areas for a unique, tingly massage. If you've ever enjoyed a TENS unit, this is the product for you.
Mmm, Shibari. The Japanese art and beauty of bondage. This quarter inch braided rope provides 35 feet of opportunity to create a sensual masterpiece with a willing partner.
What Makes Mona Lisa Smile?
&
Shunga Dragon Virility Cream
Many of you ladies already know about (and thoroughly enjoy) Mona Lisa's powerful ingredient L-Arginine. This special amino acid affects erectile tissue, such as in the clitoris or penis, increases bloodflow (mmm, throbbing!), and heightens libido. With that in mind, we are now excited to offer the Dragon Virility Cream featuring L-Arginine; a Mona Lisa for men. Once he gives it a try, you'll never want him to stop... and he may not have to!
The allure of pretending to be someone else is a gateway to untold excitement. Freeing you from the confines of your usual bedroom mannerisms, donning a costume and new persona gives you the freedom to explore different aspects of your sexuality.
Maybe it's tough to let your imagination go wild at first, but a little roleplay in the bedroom is liberating! You will find yourself more open to trying new positions. And, as you use the right side of your brain, you will find yourself getting more and more creative.
Maybe you feel a little silly pulling on the police woman outfit from last Halloween and breaking out the handcuffs right away, so try starting small. Next time you are brushing your teeth and getting ready for bed, get out of the flannel pajamas and slip into nothing but some high heels. Or, why not strip down to a figure-flattering belt? Wear only that into the bedroom, and find out what he can do when he has something to hold on to.
As you work up the courage and get more comfortable in different outfits or accessories (a thong and some knee high boots), try creating scenarios and story lines. Let your imagination take you to places you have never been, and act out scenes about which you have only dreamed. Become the lonely housewife who seduces the cable guy or the strict boss who must discipline her very bad employee. Meet your partner at a bar for the "first time." Seduce him into coming home with you for a "no-strings attached" one night stand.
Next thing you know, you come home from work in your suit, your hair up in a wispy little chignon, you slip on your horn-rimmed glasses and he discovers the wild tiger deep inside the quiet librarian. "Shhhh…let me take it from here."
The Dirty Side of Getting Clean
Is there anything sexier than when your man is all lathered up with soap, water pouring all over his body, and looking so sweet and vulnerable with his eyes closed as water drips down his face? Then join him! While his eyes are still closed from avoiding the soap, surprise him by letting him feel – was that a naked chest or thigh?
The shock of a naked woman joining him without him expecting it will fulfill a fantasy. Lather yourself up, wrap your arms around him and feel how exciting soap and water can really feel.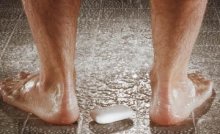 As enticing as this warm up can be, you will find yourself faced with some logistical issues, however. Slippery, hard tile can be quite the obstacle to your mutual pleasure. If your heights are compatible, he can simply press you up against the wall and penetrate you from the front or behind. If, however, he is significantly a different height than you, it may be time to get creative.
Try facing him, wrap a leg around his waist and let him bear most of the weight. You may even wrap both legs around his waist if he can get his arms securely under you. Open your bodies up and feel the water teasing the rest of your skin.
Other methods could be doggie style, on the floor, or oral can be quite fun in the shower as well, as long you are facing away from the shower spray.
You can even bring a vibrating
bath or shower toy with you for additional stimulation. A rubber mat on the shower floor is definitely recommended as shower intimacy can be fairly dangerous due to the possibility of slips and falls.
If nothing else, the action can move outside of the shower. He can lift you up onto the bathroom sink and finish up there or even proceed to the bedroom. No matter what, it is great to mix things up in your relationship, even if it is just the location. It's fun to make getting clean so dirty.
I'd love to hear from you! Have you thoroughly enjoyed a product from me? Found some creative uses? Had an embarassingly funny moment? I'm always looking for stories to tell at parties and testimonials to use on my website. Of course, all contributions will remain anonymous and will be compensated with 5% off your next purchase.