Want to host a free party with me?
Interested in doing what I do?
Ran out of lube?
Jen Leigh
617-383-9637
The bullet has taken women everywhere by storm, and has definitively asserted that size is not what truly matters. These small, smooth bullet-shaped gizmos are a simple and effective way to achieve new heights of pleasure, either solo or partnered.
These mini-vibes are excellent travel companions, stowing discretely in carryon luggage ( for those long transcontinental flights, perhaps?) and easily tucking inside luggage, never to be discovered by nosy luggage handlers.
If you'd rather not be discovered for your self-indulgence at home, the bullet is one of the safest toys for you – virtually noiseless and small, it can easily slip under your skirt and brighten your day. Of course, the idea of sneaking in some extra pleasure during a black-tie dinner might just put your partner on the edge of his seat – and with the bullet, anything is possible.
A bullet can take you to a world of discrete ecstasy, touching erogenous zones all over, sliding between you and your partner, and going where no other vibrator can go. Add this affordable delight to your stash today; by the time you Really Need One NOW, you won't want to wait!
Position of the Month: The Lover's Lotus
This is a must for those who practice yoga, or a delicious incentive to start! Help your your man get comfortably in the lotus position - his legs crossed with heels atop his thighs. Mount him by sitting on his lap and wrapping your legs around his waist. Place your mouths close together. As you inhale, rock backwards and tighten your vaginal muscles and have him exhale. As you exhale, he will inhale, you will rock forward and release. The slow, mirrored movements and the deep breathing will create intimate and intense orgasms for you both.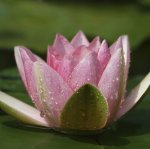 Close your eyes for a moment and envision the state of your bedroom as you last saw it. Perhaps this morning as you dashed out the door, clothes were strewn about the place, or hastily shoved in a closet. Was your bed made? Does the vision of your room inspire romantic thoughts? Give your room a simple makeover with by focusing on these key areas: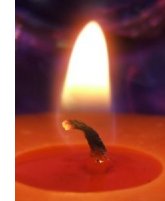 Warmth: Create this look by adding warm colors to the walls, bedding, and window treatments; compliment the look with a lot of soft lighting. Low-watt warm-toned bulbs, Christmas lights, and/or candles work wonders. Bonus points if your candles are scented with pheromones and/or double as warm, pourable massage oil!
Remove the unromantic: Messes, stacks of papers, random bits of life scattered about: these need to find new homes. Pictures of family members and kids' artwork should be extremely limited in the bedroom. In fact, if you can, avoid it altogether. Keep the room tidy and focused on the relationship between the two inhabitants.
Invest in your love: Spend a little extra to upgrade your room. High thread-counts on the sheets, luxurious comforters, extra pillows, and swank accessories will seal the transition of your room into a luxe love lair.
If you want to take this project one step further, work with your partner to talk about what kind of romantic retreat you want to create. Some couples opt for themes such as: vintage glamor, exotic destinations, French boudoir, Vegas hotel room, and beyond. Use your common romantic tastes to create the right atmosphere for you. You should love it, after all, you're probably going to be in there quite a bit more.
Ultimate Toy Tips for Men (and their partners)
Who said sex toys were just for women? While we do dominate the market, there are certainly a number of toys for men out there. You just need to know what they are and how to use them! Here are some basics:
Masturbation Sleeve: These are funny looking toys that come in a variety of shapes, colors, and sizes. Some have "realistic" shaped vulvas or mouths, and some are more generic. Use one with lots of lube to spice up a hand job. Or, use a shorter version of the toy (you can cut one!) around most of him and he can enjoy the feeling of your mouth around just the tip.
Cock Rings: These also come in various colors and forms. Some even have bullets attached! The main purpose of a C-Ring is to keep the penis harder longer. This can both delay and intensify orgasm. Definitely a win for everyone!
Bullets: Yes, these are commonly recognized as women's toys. However, with some imagination and knowledge of male anatomy, these can be very fun for men too! Try using one on his nipples to see what happens. Every inch of a man's skin is an erogenous zone when exposed to different sensations. Looking for something more intimate? Try pressing a bullet against his perenium - the area behind his scrotum. This can transfer plesantvibrations up into the prostate - the "male g-spot."
Looking for more? Check out my advanced article, Lego Sex Toys for Men, to learn about the fun you can have by combining toys! Exclusive package deals are also available.
Ever heard of the wonderous Hitachi Wand? It's the BEST "back massager" money can buy. But who wants a toy that plugs in to the wall? Book a party with me in May or June to get your very own battery operated version of the Wand that's pint size but just as powerful as the real thing.